TalentClick's Attitude-Values-Personality (AVP) Reports
We are excited to offer TalentClick's suite of reports for intelligent hiring and selection! Their Core Bundle is called the AVP (Attitude-Values-Personality) and it is their assessment solution package. TalentClick has bundled their 4 most popular assessments into one easy-to-use survey, providing employers deep pre-hire and coaching insights within minutes.
The AVP solution helps to identify the personality traits and "default settings" which are correlated with successful workplace performance. TalentClick's reports have a unique focus on Behavioral Risk, predicting the likelihood of people's inherent "hard wiring" for positive attitude, integrity, achievement-orientation, responsibility, communication, coachability, aggression, distractibility, and more.
These reports are applicable to a broad range of industries and position types ranging from front line industrial workers to office-based professionals to organizational leadership positions. The testing site also allows for benchmarking of the ideal traits required for specific roles and candidate 'fit scores' against the desired benchmark ranges. Please watch the demo video below for a deeper look at the TalentClick benchmarking capabilities and candidate fit score prioritizing for a broad range of position types.
Please click on the following links to view the sample reports of our most popular reports for employers:
Leadership Plus with Fit Score (Employer Report)

Attitude-Values-Personality (AVP) Report For Hiring, Training and Coaching (Employer Report)
Leadership Profile for Hiring, Training and Coaching (Employer Report)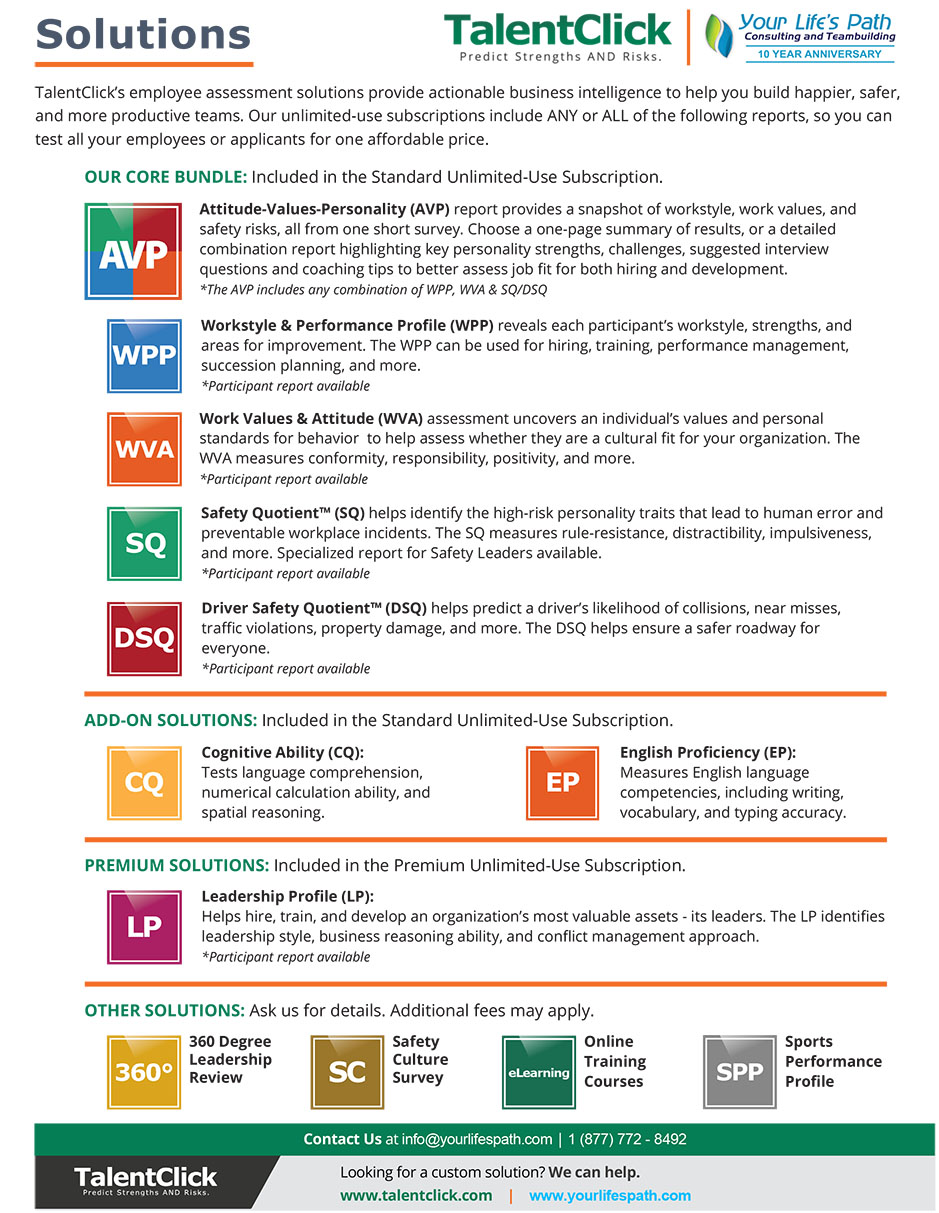 Watch Video Overview of How TalentClick Can Help You Make Better Hiring Decisions:
TalentClick's reports are ideally suited for companies and organizations with a minimum of 500 or more employees who are actively recruiting talent on a regular basis. Access to the assessment platform is based on an unlimited use subscription model in either standard or premium levels. Annual or monthly subscriptions are available depending on the number of people in the organization. Please note that these reports are intended for sale to and use by end-user organizations and are not offered for sale through third-party consultants or recruiting firms.
We would be happy to provide you with a demo of the assessment platform to show you how it can improve and enhance your hiring process. You will be impressed with how streamlined and efficient your recruiting efforts will be while saving you time and allowing you a much more targeted approach to your candidate selection and hiring process.
Please contact us today to schedule your demo or request additional information. We look forward to hearing from you!