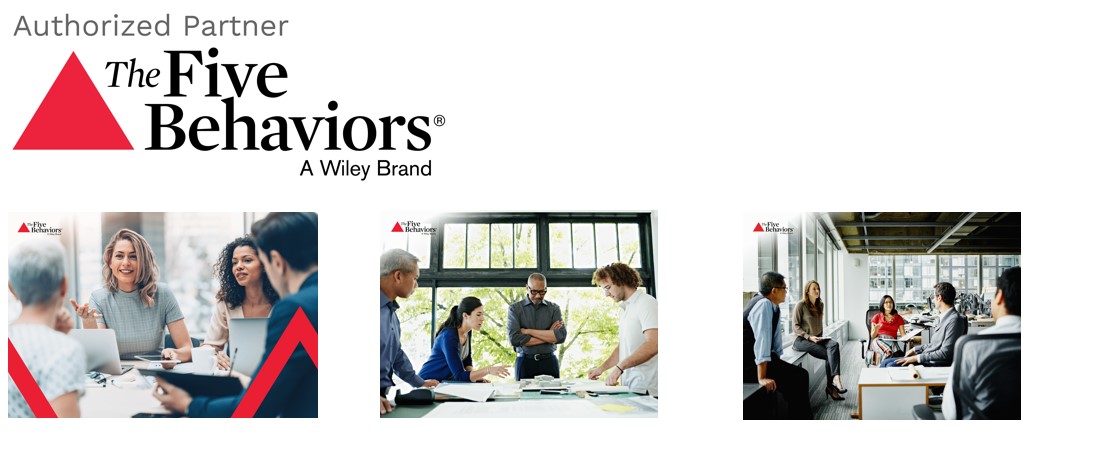 The Five Behaviors® is the result of the partnership between Wiley and best-selling author Patrick Lencioni. Our mission is to deliver a premiere learning solution that improves team effectiveness and productivity through the understanding and application of The Five Behaviors: Trust, Conflict, Commitment, Accountability, and Results. This unique learning experience helps build a culture of high-performing teams through better communication and collaboration.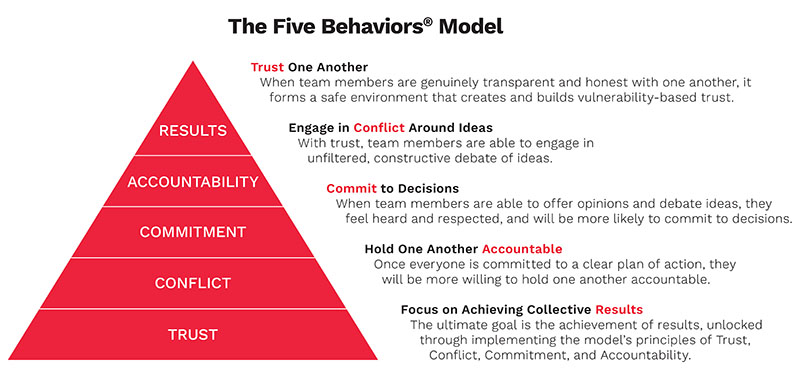 Two Report Options:
Five Behaviors Personal Development Profile. Cost: $135.00 per report / person


(25 EPIC Credits for EPIC sub-account holders)



Build and Fortify Skills that Transcend Teams
The Five Behaviors® Personal Development solution teaches individuals to become better teammates by integrating Patrick Lencioni's model at the organizational level. The goal is to completely redefine teamwork and collaboration. Personal Development was designed specifically to work for individuals; participants do not all need to be part of the same team. Rather, participants can carry the takeaways of this program from one team to the next, enabling a culture of teamwork. Learners at all levels of an organization can benefit from this program and adopt its powerful principles, shape behaviors, and create a common language that empowers people to rewrite what it means to work together.
To view a sample of this report, click here:

Five Behaviors Team Development Profile. Cost: $189.00 per report / person


(35 EPIC Credits for EPIC sub-account holders)



Ideal for Small - Medium Sized In-tact Teams, 5-12 people
The Five Behaviors® Team Development Profile Powered by Everything DiSC® helps teams apply The Five Behaviors® model of Trust, Conflict, Commitment, Accountability, and Results to drive team effectiveness and productivity. The program uses Everything DiSC, a tool that helps build effective team communication and relationships, to help participants understand their individual DiSC® style and discover how each style brings value to the team.
To view a sample of this report, click here:


Facilitation:

It is strongly recommended for maximum effectiveness that these programs are facilitated by a certified practioner (either you or someone on your team or we can deliver it for you). Your Life's Path offers facilitated sessions and workshops for both Five Behaviors Report types. In addition, we offer Five Behaviors Certification courses which are delivered by Wiley. See below for more information on the Five Behaviors Certification Course.
We offer two virtual Five Behaviors Facilitated Workshop options, as follows:
Personal Development Version: 3-hour Virtual Workshop. Cost: $895.00

Team Development Version: 6 hour Virtual Workshop (Delivered in two 3-hour virtual sessions a week apart). Cost: $1,790.00

Five Behaviors Facilitation Kit. Cost: $1,495.00
The facilitation kit for Five Behaviors includes content for Personal Development and Team Development. The kit provides everything a facilitator needs to conduct and facilitate outstanding Five Behaviors Workshops (Personal Development or Team Development) for their participants. Includes: customizable PowerPoint slides with videos Facilitators' Guide, Handouts, Supplements and more (Five Behaviors Profile reports are not included with kit and are sold separately).




The Five Behaviors® Practitioner Certification:
Course Cost: $1,995.00 (also requires the purchase of a Five Behaviors Facilitation Kit - $1,495.00)
Total Cost: $3,490.00
The Five Behaviors® Certification prepares practitioners to deliver engaging and impactful Five Behaviors® learning experiences that help build cohesive teams. In this two-week immersive experience that combines live, instructor-led sessions with self-guided online learning, participants will:

Deepen their understanding of The Five Behaviors model and key principles.
Familiarize themselves with the full Five Behaviors® solution portfolio: Team Development and Personal Development.
Explore how to build, customize, and deliver impactful Five Behaviors learning experiences to address unique team development training needs.
Practice facilitation techniques while receiving feedback from peers in a supportive environment.
Gain access to Wiley's online training center, connecting them to course content that they can continue to access as a resource after the course concludes.

Upon successful completion of the exam, participants will earn the credential of The Five Behaviors Certified Practitioner, signaling proven competence in shaping engaged, cohesive, and high-performing teams—and knowledgeable in the language of The Five Behaviors.
Course Structure:



The Five Behaviors
®
Certification course spans two weeks of learning, combining live, instructor-led sessions with self-guided online learning. Specifically, participants will:
Complete five asynchronous learning modules (approximately three hours of online coursework per module).
Attend and engage in four live, instructor-led virtual sessions (two hours each).
Present an application project and receive valuable feedback.
Take the final Certification Exam to measure understanding of the key Five Behaviors® concepts (a passing score of 80% is required).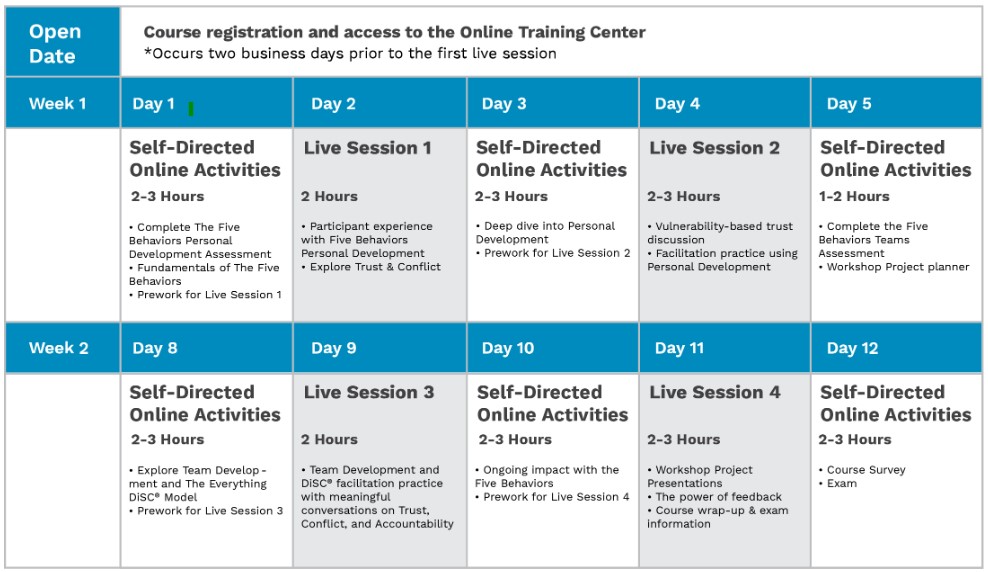 Upcoming Course Dates:

Five Behaviors Certification, (Begin Online Pre-work, September 21, 2023)
Live Sessions
Mondays & Wednesdays
September 25, 27 & October 2, 4
2:00 - 4:00 pm (Central Time)

Five Behaviors Certification, (Begin Online Pre-work, October 19, 2023)
Live Sessions
Mondays & Wednesdays
October 23, 25 & October 30 & November 1
1:00 - 3:00 pm (Central Time)

Five Behaviors Certification, Course Open (Begin Online Pre-work, November 24, 2023)
Live Sessions
Tuesdays & Thursdays
November 28, 30 & December 5, 7
9:00am - 11:00 am (Central Time)

Five Behaviors Certification, Course Open (Begin Online Pre-work, January 8, 2024)
Live Sessions
Wednesdays & Fridays
January 10, 12 & 17, 19
10:00 am- 12:00 pm (Central Time)

Five Behaviors Certification, Course Open (Begin Online Pre-work, February 2, 2024)
Live Sessions
Tuesdays & Thursdays
February 6, 8 & 13, 15
10:00 am- 12:00 pm (Central Time)

Please Contact Us with Any Questions About Using The Five Behaviors with Your Team or Placing an Order
(727) 527-1200 or chris@yourlifespath.com
Schedule a short 10-15 minute conversation with us here